Auvergne-Rhone-Alpes region seeks to improve training access for disabled workers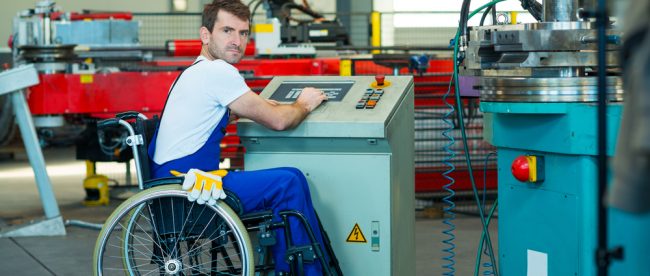 Agefiph, represented on a regional level by Daniel Dias, and the Auvergne-Rhône-Alpes region, represented by Stéphanie Pernod-Beaudon (Vice-President for Apprenticeships and Vocational Training) and Sandrine Chaix (Regional Councilor for Persons with Disabilities), have recently concluded an agreement concerning the professional integration of persons with disabilities. The new agreement was signed between Agefiph (an association for the management of funds for disabled workers) and the region on the 5th of May 2017.
This three-year protocol of intent (scheduled to run from 2017 to 2020) identified four major areas to help people with disabilities find jobs.
A regional program to provide access to training
The first field of collaboration is to increase the access to training for people with disabilities . To this end, the application of the law enshrined on the 5th of March 2014 provides for the integration of a regional program under the SPRF (Regional Public Service for Vocational Training) scheme in 2017. These training activities concern "prequalifying" actions (11 % to 14% in 2015) as well as certified and qualified training (8.7% in 2015). The region then plans to conclude agreements with companies to help finance training.
Apprenticeships : a doorway towards jobs
The second focus of the agreement is on the continuation and development of the access to apprenticeships for registered disabled persons . This mechanism is in fact one of the most common ways of accessing employment with 60% of the 1000 handicapped apprentices in the region in 2015 finding a post in the 3 months following the end of their apprenticeship contract.
A mark of quality for disabled workers
The third field of improvement targeted by the protocol is designed to secure the pre-existing training paths for able-bodied people and to adapt them to people with disabilities. Thus, the protocol plans to expand the existing Rhônalpine H + approach throughout the region. With this in mind, the protocol specifies the integration of disability in Agefiph's approach towards labeling training centres for the quality of their training and their capacity to host people with disabilities.
Operational agreement to increase access to jobs
The final focus of the agreement is to increase access to employment for people with disabilities. Agefiph and the Auvergne-Rhône-Alpes Region foresee joint collaborations to help keep  disabled people informed and raise their awareness of employment. The creation of activities will also be strengthened with 465 projects supported by Agefiph in 2015 alone (a 6% increase compared to 2014).
The Operational Partnership Agreement specifying the exact provisions and objectives for these collaborations is planned for 2017. It is being extended to the Fund for the Integration of People with Disabilities in the Public Service (FIPHFP). In addition, a Regional Plan for the Integration of Disabled Workers (PRITH) is planned for signature at the beginning of July 2017